Apart from my interest in retrieving information about senders and addressees, contents and messages, I occasionally include covers / postcards in my collection because the postal rate or postal markings intrigue me. The cover below is such an example. This letter was sent to the 'Dutch agricultural head office' by making use of the Dutch express service. Voermans & Backx had to pay 10c extra to make this a valid express letter. The label 'Spoedbestelling / Exprès / Spoedbestelling' was hence applied which made the PTT aware that this was a special delivery. In these days – and today still – the service was provided for by a separate agency of the postal service, which meant that 'ordinary' postmen weren't allowed to process the item.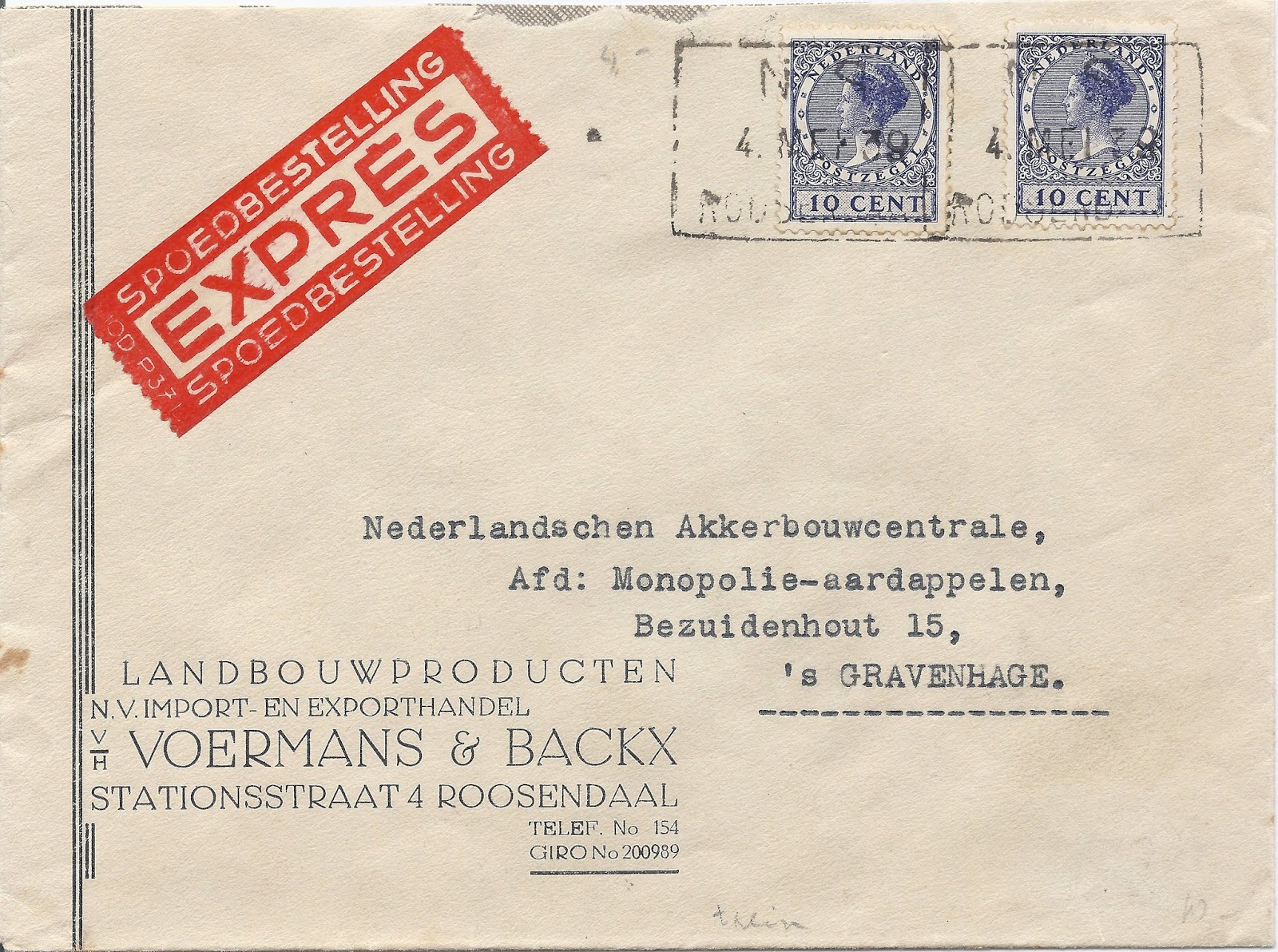 If you carefully read the address of the sender (Voermans & Backx) you might notice that this company which traded in agricultural products was situated alongside the 'Stationsstraat', Dutch for Station Road in Roosendaal. The combination of this address and the unorthodox cancel made me flip the cover: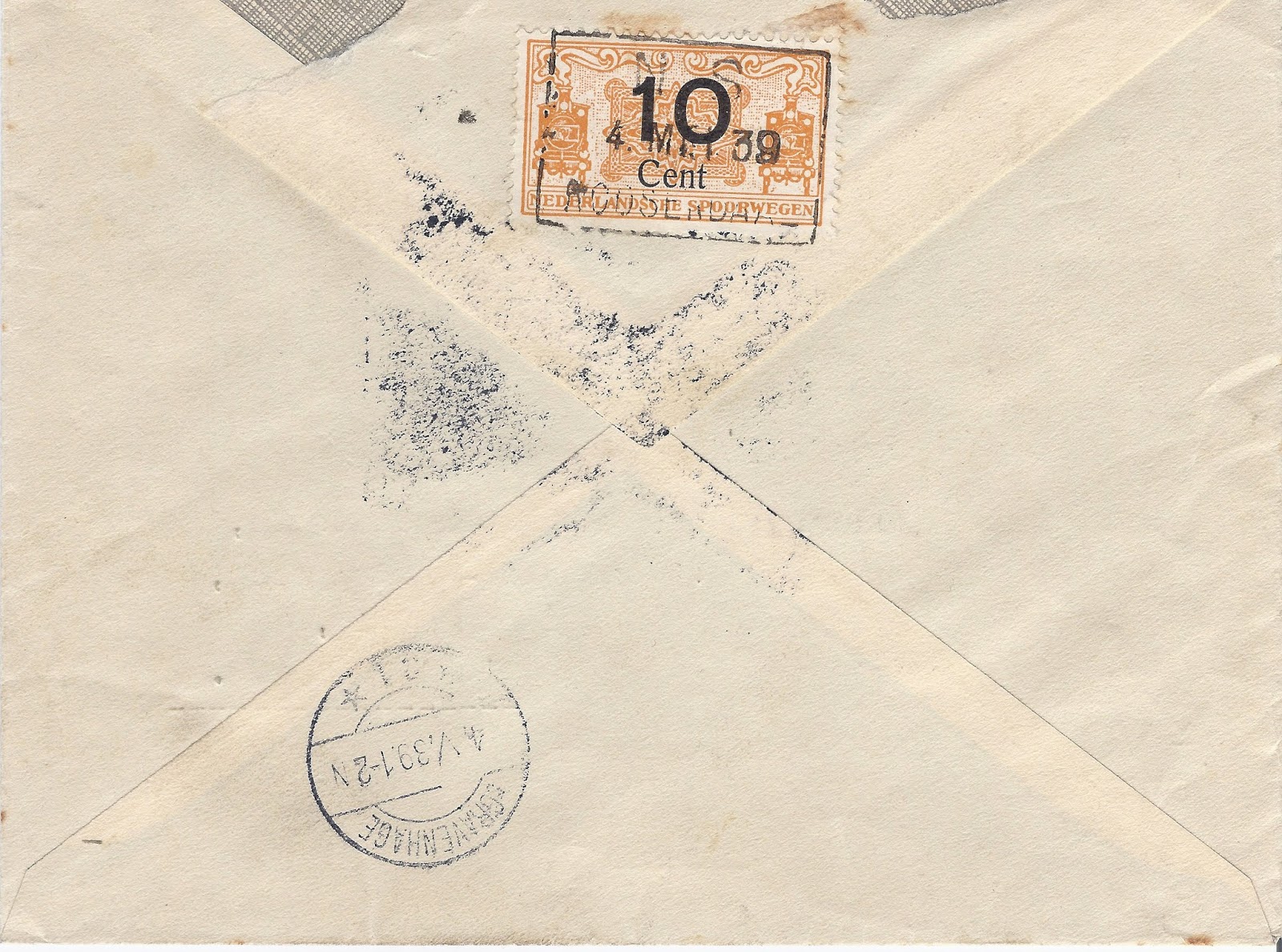 A third stamp is glued to the back flap of the cover! And it is no ordinary one: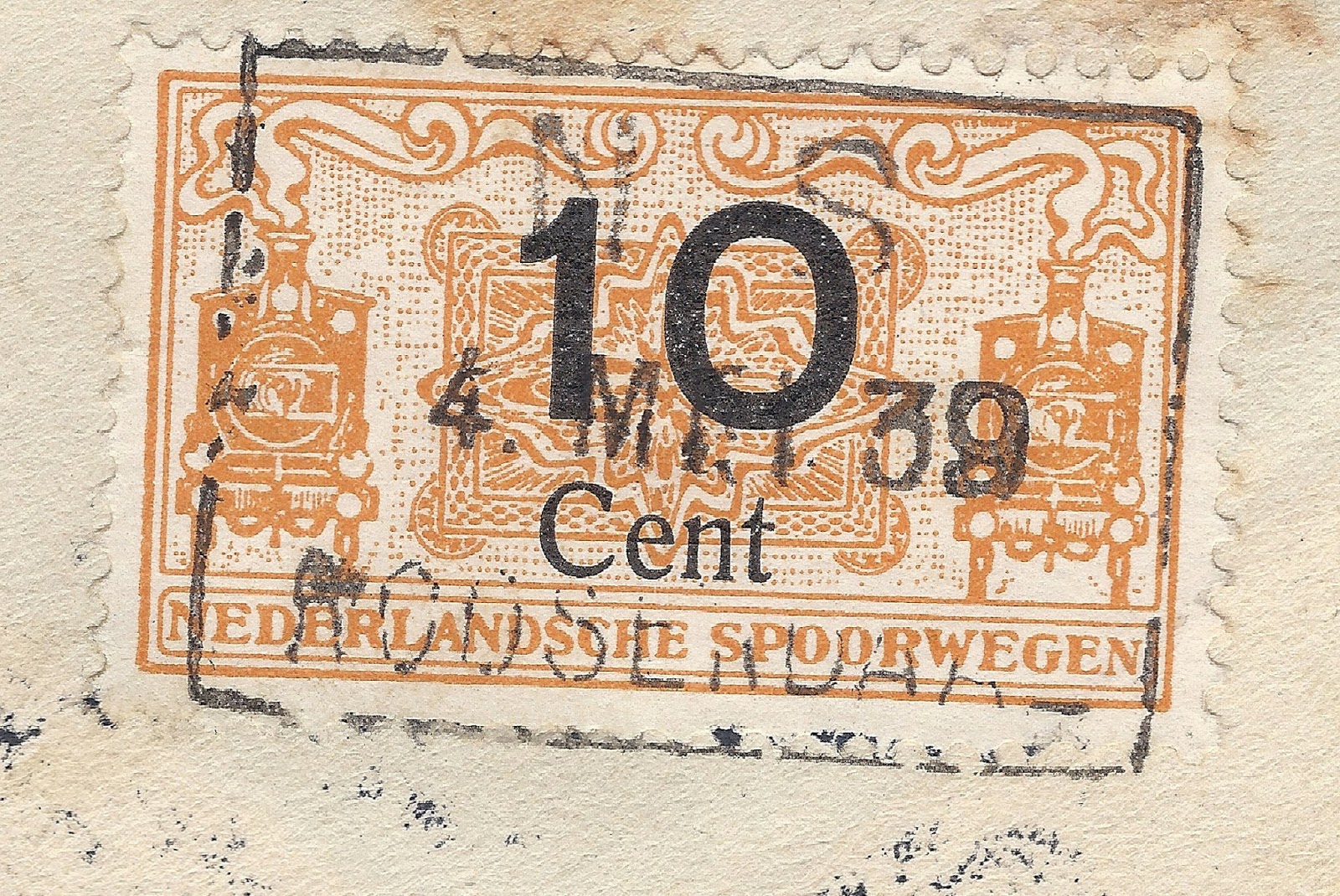 It turns out to be a so-called 'Railway stamp', a type of stamp which was used by various countries in the world to pay the cost of the conveyance of a postal item by train. A steam locomotive adorns the stamp and the text reads: Nederlandse Spoorwegen: the Dutch Railways (NS).
The marvelous book about Dutch express delivery by Arie Zonjee and Ot Louw (2013) devotes a chapter to the Dutch Rail Express Service:
From 1924 onwards the Dutch Railways (NS) made it possible to send express items by train. In order to do so, the sender had to pay the standard PTT Express fee of 10c + and an extra Train Express fee of 10c. The Dutch Railways produced their own stamps in order to comply with this service. The guard on the train took care for the items during the ride. The (Railway) stamps were to be cancelled with a NS cancel of the local luggage center from which the items were being sent.
The example above was cancelled at Roosendaal Station on the 4th of May 1939 and arrived in The Hague the same day between 1 and 2 p.m.
Why did the sender chose to sent this particular cover by train instead of the ordinary service? Maybe this was the fastest way to get the letter from a to b. I doubt this, as the ordinary express service would be almost as fast. Maybe the station was easier to reach than the main post office of Roosendaal. Quite possible, but – then again – most railway stations had a PTT office as well… Oh well, it makes a fine example of a Dutch train cover after all!
For the original publication see the Dutch Philately blog by Hugo Brieffies.