The true philatelist does not like damaged stamps or damaged postal items. However, sometimes an exception has to be made if something is very special. Take this cover with print from Maison Luyke, taken over by Rooswinkel, cuisinier in Bois-le-Duc. Bois-le-Duc sounds posh, but is simply the French name for 's-Hertogenbosch (Den Bosch). The envelope is a loss: the stamp has been torn out. Yet prominently on the front of the cover is a stamp of 2½ cents from the Tramweg-Mij / Eindhoven-Geldrop (Tramway Company Eindhoven-Geldrop), which ran a delivery service.
The Eindhoven-Geldrop tram line was a horse tram of only 6.7 km., opened on November 18, 1888. In 1906 a collaboration with another company, the Tramweg-Maatschappij De Meijerij (TM), followed. A small line with a short life then. But why is this seal on this letter? The letter is addressed to the wife of notary J.J. Fens. He lived in Villa Kortonjo in what were then the outskirts of Eindhoven, south of Stratum. Until the collaboration with the TM in 1906, the tram line ran from Eindhoven Station via Stratum to Geldrop. After 1906 the tram no longer arrived in Stratum.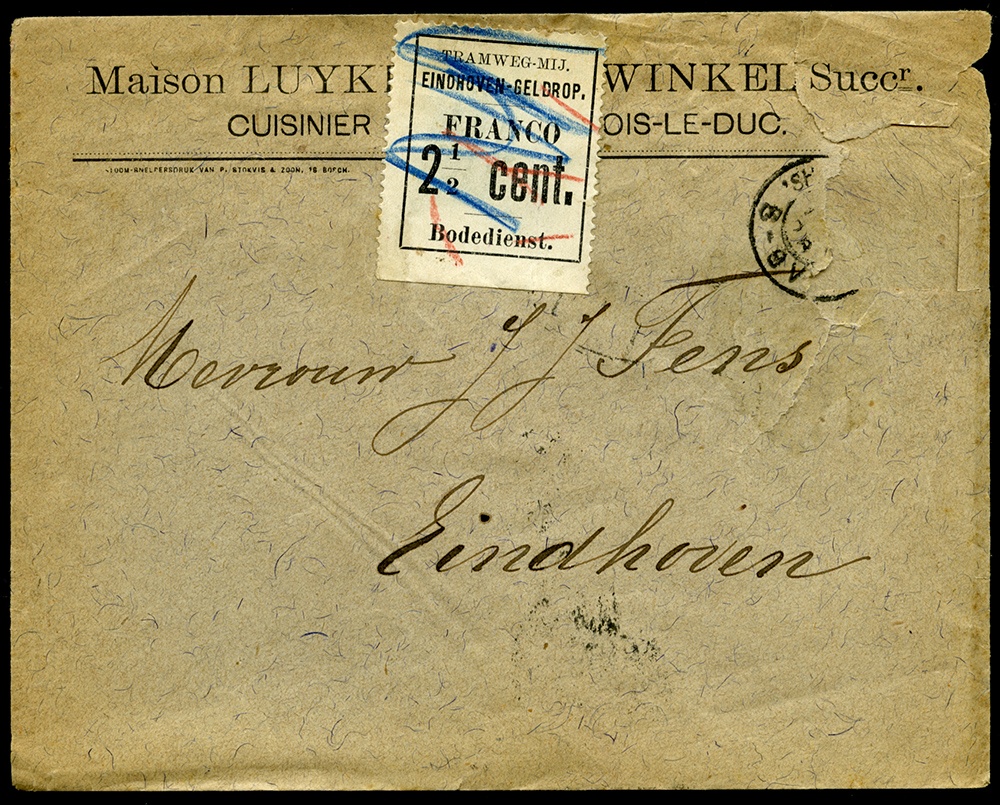 Back to the envelope. Although the envelope is very ugly and not collectible in this state, it is advisable to leave the seal (which is in perfect condition) on it instead of cutting it off. On the back there is a stamp from Eindhoven, so the date is clear: November 21, 1896.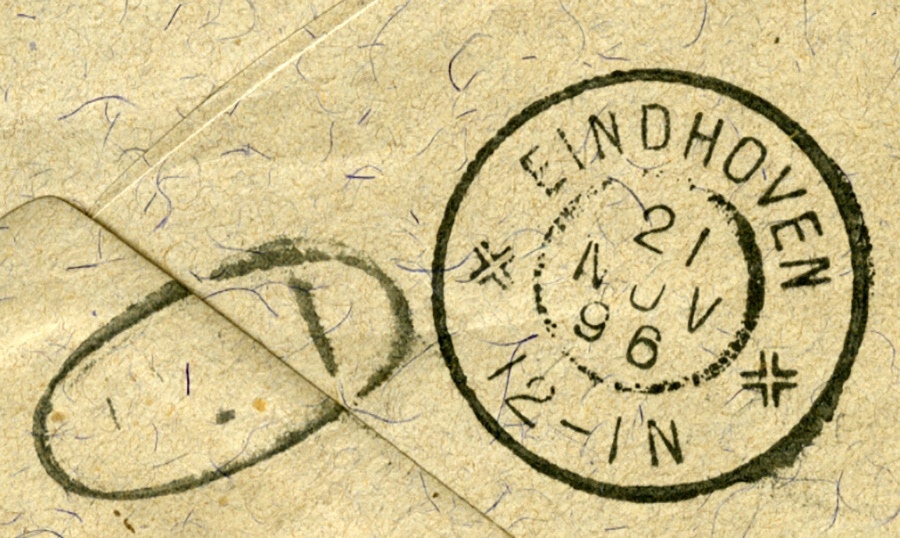 For more Dutch tramway history see "Overzicht van de Nederlandse spoor- en tramwegbedrijven, Ir. J.W. Sluijter e.a."